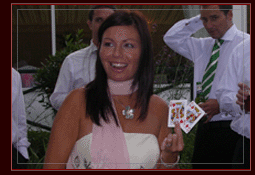 Peter Nardi
has been in the business of magic for over twenty years.
As founder and owner of Alakazam Magic, he has been at the forefront of everything that is new in magic for longer than most.
This also gives him an extensive knowledge of many diverse principles in all areas of the art.
Hiring Peter for your function or trade show guarantees absolute top quality entertainment. As well as his many performances, many professional magicians seek Peter as a consultant for their stage and TV specials: including Channel 4's 'Playing Tricks' and 'Freaky', plus Sky One's 'Max Magic'.
With performances full of natural charm and wit book Peter for your next function before someone else does!
"You have restored my faith in magic, I assumed all the stuff Derren Brown does is TV trickery, but seeing you do it live was out of this world!
An absolute star...look out for this guy!"